we offer customized button badge, metal button badge, pin badge, magnetic badge, name badge etc… our range of custom design lapel pin works for entire branding, promotion and celebration. we are one of the reliable custom badge, name badge, reel badge, tie clip manufacturing and supplier in YEAR OF ZAYED'S Badge manufacturer, metal clip makers, medal and award plaque printing, Epoxy label and name plate making in Sharjah, Dubai, Abudhabi, Ajman, Al Ain, RAK, UQ, Fujairah, UAEUAE, Qatar, Oman, Bahrain and African country.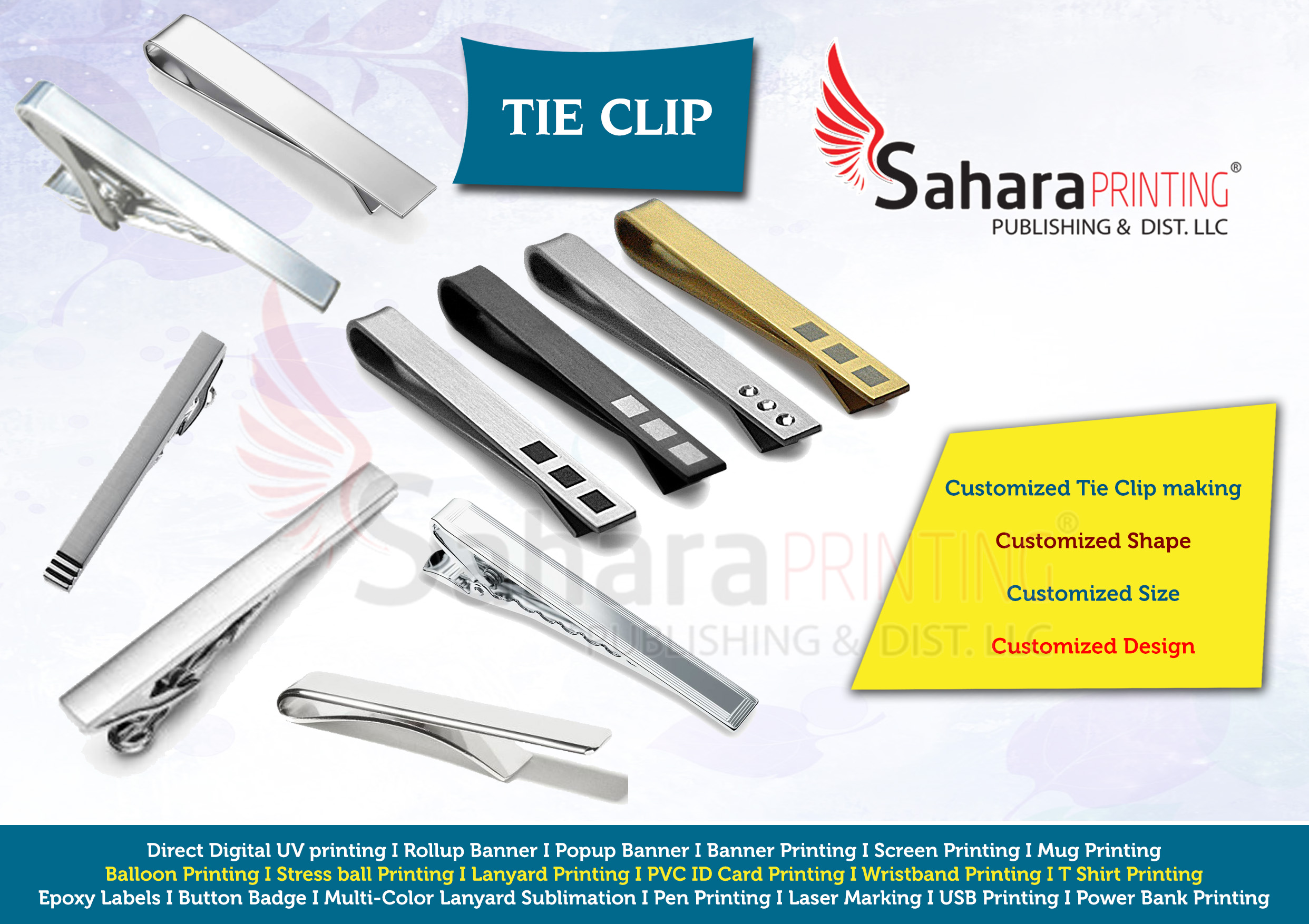 available button badge base in our stock
33 mm or 3.3 cm button badge which widely used for campaign and school
43 mm or 4.3 cm button badge with metal base which used for exhibition, campaign, college, trade show
73 mm or 7.3 cm pin button badge with plastic top and metal bottom
multi colors printing button badge
custom design badges
name badge
magnetic badge
fridge magnet
rubber magnet and much more
butter fly clutch badge, pin badge
YEAR OF ZAYED'S  custom metal clip, pin badge and magnetic badge printing and making
ready made YEAR OF ZAYED'S  celebration badges and lapel pin available in stock
YEAR OF ZAYED'S name plate with magnet and pin or butter fly clutch clip
YEAR OF ZAYED'S epoxy label, reel badge, balloon, lanyard, mug sublimation and printing
YEAR OF ZAYED'S  celebration accessories supply with logo printing
YEAR OF ZAYED'S special flag, digital pop up stand banner printing for event and promotional
want to Buy Customized Button Badges Online? we can help you to get your button badges in easy way in Dubai!!!
if you are looking for Custom made button badges which are some of the best products that we are manufacturing with custom design printing and supplying all over United Arab Emirates. We produce wide range of products is made up of premium quality metal base and pin, plastic material bought from the east china, india and Europe. of course these badges are highly attractive and eye catching in looks, weightless,  Creative designs and outstanding patterns make these products largely popular among the clients. sahara button badge provider is one of the professional team to offer these badges at reasonable rates and on time delivery too. with us you will be having range of selection in size, design and colors
OUR Other services:
Button Badges in UAE (Difft Sizes) |  | Personalizing at Dubai  – tshirt printing ,coffee mug printing, metal photos, ribbon printing , cap printing, promotional gifts Personalizing at Dubai  – tshirt printing ,coffee mug printing, metal photos, ribbon printing , cap printing, promotional gifts
We also manufacture name tags, epoxy name badge, premium quality button badge with metal base and plastic pvc,  name plates, convention and trade show badges, ribbons, lanyards, and personalized promotional items to help meet your needs in English and Arabic language in UAE.
customized name badge printing
custom design lapel pin, tie clip, badges, patch, award medal school medal coin etc…
brass finishing, gold plated, enamel coated, stainless steel finishing
button badges, name badge, hang tag, price tag, clothing tag in paper and metal material
quality epoxy label soft and hard
epoxy name badge for staff, hospital, office and school
dress hang tag in metal embossing
embossing, debossing, texture making in medal and coin
Yes, We have few decades of great experience in creating professional, high quality name tags, give away, badges, digital printing, silk screen printing, offset printing, epoxy coating works, balloon print, key chain engraving, that are tailored to your specific needs.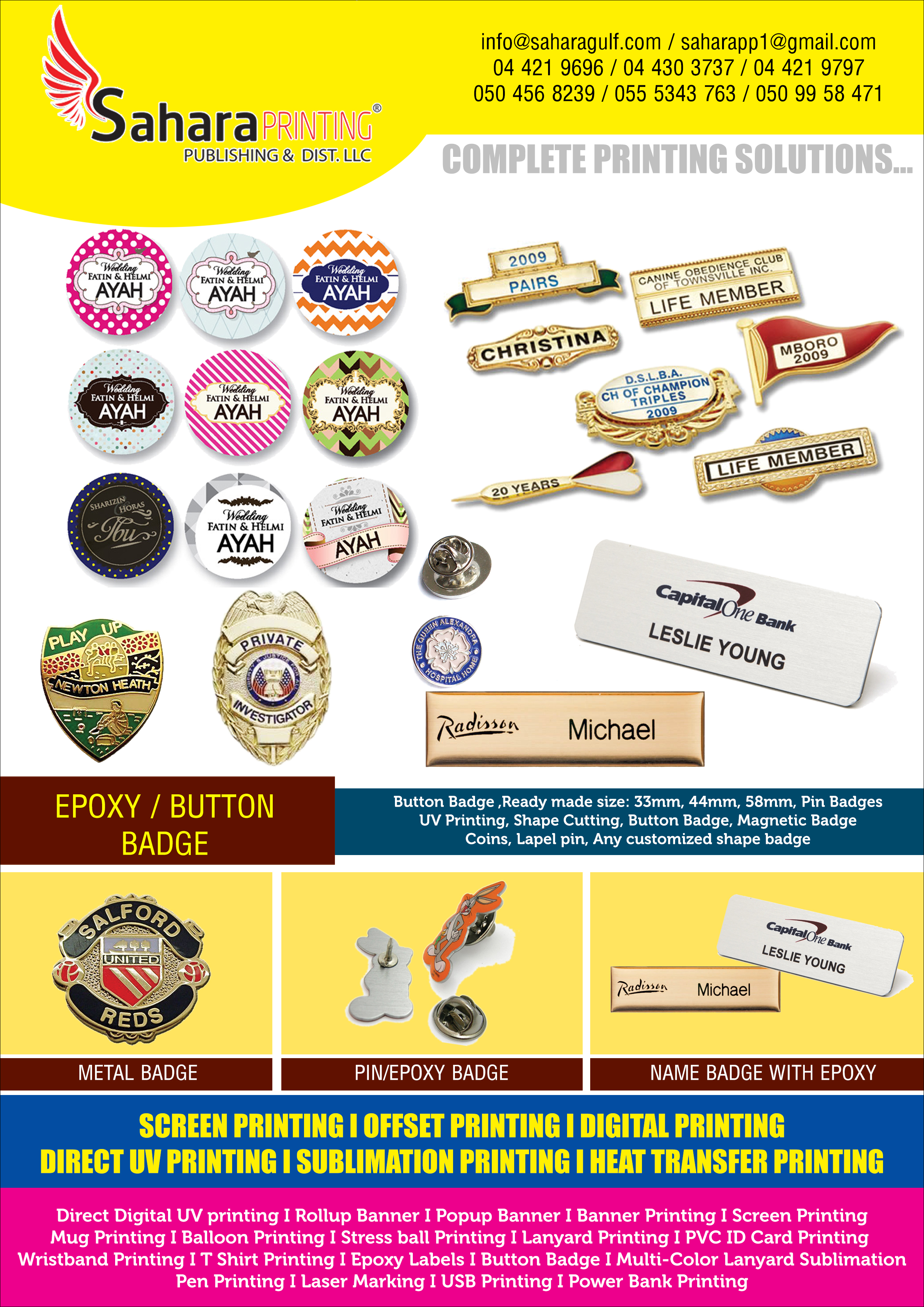 We provide id cards for schools, college id cards, Hospital id cards etc at cheapest prices in UAE at wholesale price millions of bulk quantity PVC ID cards delivery within weeks. we handle bar-code printing, scratch cards printing, individual plastic packing cards, telephone cards printing, access cards printing, hologram printing, embossing cards etc…
for more informatoion about name badge making and printing, coin, tile clip, lapel pin please dial now 044219696 / 0509958471 / 0555343763/ email us info@saharagulf.com
Premium quality button badge making in Dubai